OUR SILENT SCREEN PROGRAMS:
Short-Film Nickelodeons, Comedy Cookie Jars and Major Feature Films
Perhaps next year we'll have the opportunity to present
A 1906 EARTHQUAKE NICKELODEON
This show incorporates the period and events surrounding the 1906
San Francisco Earthquake, an occurance that is uppermost in
the Bay Area's historical awareness every April.
*1906 Earthquake Nickelodeon Show*
THE BERKELEY ART HOUSE PROGRAMS
At the Art House Gallery and Cultural Center we presented two Comedy
Cookie Jars and a Cinema Obscura 16mm Crazy Quilt. THE COMEDY COOKIE JAR
showcases a varying assortment of silent comedy shorts, and has something for
pretty much everyone. Click below for one of the Cookie Jars-- it was a pip!
THE EAGLE SHOWS Here are some programs we screened (to universal acclaim, of course) on
Saturday nights at Old Sacramento's historic Eagle Theatre a few summers back.
These were shorter shows, most of them Nickelodeons, which call for
live singers with ILLUSTRATED SONG SLIDES and a sing-along chorus.
~ ~ ~ ~ ~ ~ ~ ~
THE 1909 ST. PATRICK'S DAY NICKELODEON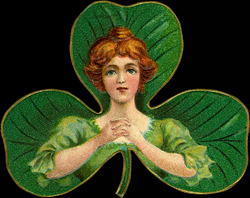 One of the few events that Excelsior has produced in its own venue was
a 1909 Nickelodeon for Saint Patrick's Day, 2012. This was a private
party held at our former base of operations, and shows some of how
the theme and period were employed on this occasion.
*St. Patrick's Day Nickelodeon*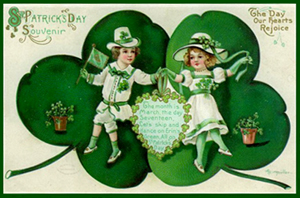 Coming Up: All About Our Feature Films.
SILENT SCREEN SUNDAY
at the Art House Gallery, 2905 Shattuck Avenue,
(one block north of Ashby) Berkeley, CA 94705. Phone (510) 472-3170.
If you've never seen the Art House, you owe yourself a treat. It can only
described as TRIPPY! Well, actually, there are quite a few other words
one could use... By all means, make a visit and see for yourself.
For the evening of March 29th, 2015 it was the '20s again, with one-reel film fun
from this 'funnest' of decades, introduced by 'Celluloid Rose' (Annie Lore).
Our accompanist for this outing was the dexterous Professor Win 'Fingers' Meyerson.

~ ~ ~ ~ ~ ~ ~ ~ ~ ~ ~ ~

THE PROGRAMME INCLUDED:
"POST NO BILLS" (1923) Paul Parrott gets the word out, but good
in this Hal Roach release. Paul Parrott is Charley Chase's brother.
"COURT PLASTER" (1924) Ethereal, heavenly or hellish...
A really crazy Christie comedy with Jack Duffy and Neal Burns.
"NIFTY NUMBERS" (1928) Frances Lee & Billy Engle in a frothy romp,
part of the saucy Christie "Confessions of a Chorus Girl" series.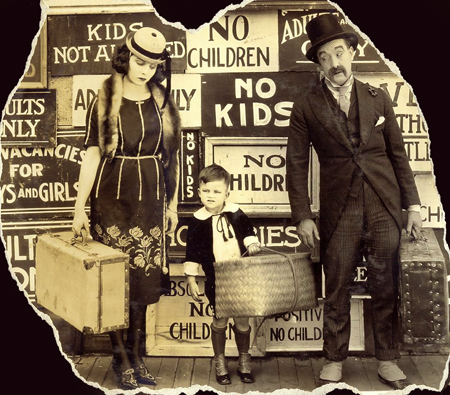 "STRICTLY MODERN" (1922) Snub Pollard jazzes up a creaky old
hotel with half-baked inventions, Marie Mosquini joining the fray.

PLUS!
"GRIEF IN BAGDAD" (1925) A lavish sendup of the celebrated Fairbanks
"Thief of Bagdad", with a few differences in casting. Who wouldn't go ape?
AND MORE!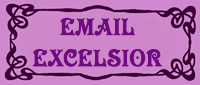 A 1905 NICKELODEON
With Two Major Photo-Plays
Edison's Suspense-Filled Drama
"THE GREAT TRAIN ROBBERY"
Not for the Faint-Hearted!
And
The Epic Méliès Fantasy
"KINGDOM OF THE FAIRIES"
Sixteen Minutes of Pure Enchantment
.............
A 1910 NICKELODEON
Onscreen:
A Startling Edison Adventure
"RESCUED FROM AN EAGLE'S NEST"
Plus
The Edifying Griffith Biograph Drama
"A DRUNKARD'S REFORMATION"
And
That Sweetest Journey by Train,
"A ROMANCE OF THE RAIL"
With
The Amusing Photo-Play Portrait
"THE WHOLE DAM FAMILY"
Plus
"MARRIED FOR MILLIONS"
A Cautionary Comedy
............
A 1912 NICKELODEON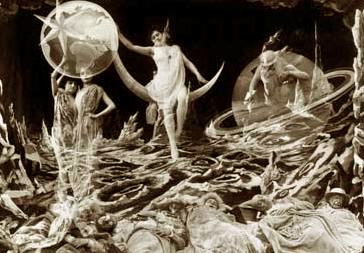 Onscreen:
Griffith's Gritty Big-City Crime Drama
"MUSKETEERS OF PIG ALLEY"
Méliès' Whimsical "WRESTLERS"
A Thought-Provoking Griffith Biograph:
"MAN'S GENESIS"
And the Méliès Adventure
"CONQUEST OF THE NORTH POLE"
............
A 1908 NICKELODEON
Onscreen:
Edison's Dyspeptic Comedy,
"DREAM OF A RAREBIT FIEND"
And a Pathe Drama of the Ancient World,
"A SLAVE'S LOVE"
With
Ferdinand Zecca's Celebration of Sorcery
"THE RED SPECTRE"
Plus
A Celestial Spectacle from the Amazing Georges Méliès:
"THE ECLIPSE"
............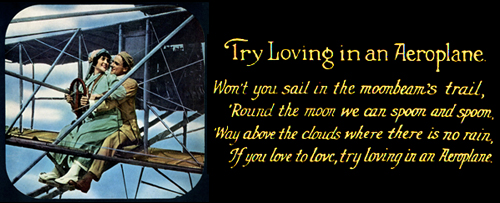 ANOTHER 1905 NICKELODEON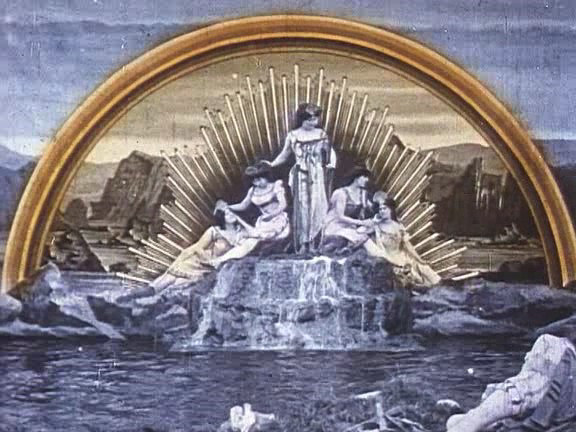 Onscreen:
A Full 14 Minutes! Edison's Moving Illumination of
"UNCLE TOM'S CABIN"
With
A Charming Confection:
"THE GAY SHOE CLERK"
Plus
The Méliès Automobile Comedy,
"PARIS TO MONTE CARLO"
With Ferdinand Zecca's Beautiful Fantasy
"DOWN IN THE DEEP"
............
A 1913 NICKELODEON
Onscreen:
A Brilliant Griffith Biograph:
"THE NEW YORK HAT" with Mary Pickford
And
French Comedy with Max Linder:
"LE CHAPEAU DE MAX"
Plus
The Laugh-Filled New Keystone Release
"HIDE AND SEEK"
with Mabel Normand, the Cutest Thing on Film!
............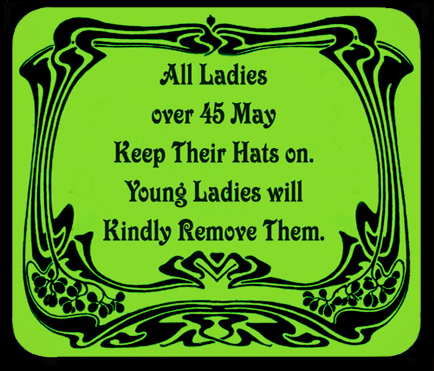 A 1906 NICKELODEON
Onscreen:
A Full 11 Minutes! Edison's Gripping
"ROUNDING UP OF THE YEGGMEN"
And
A Droll Comedy Back by Popular Demand
"THE WHOLE DAM FAMILY"
Plus
Thrilling Science Fiction!
"THE POSSIBILITIES OF WAR IN THE AIR"
With
"THE MERMAID"
And Other Enchanting Fantasies from Georges Méliès
Also
"A TRAIN RIDE DOWN MOUNT TAMALPAIS"
Just Like Being There!
............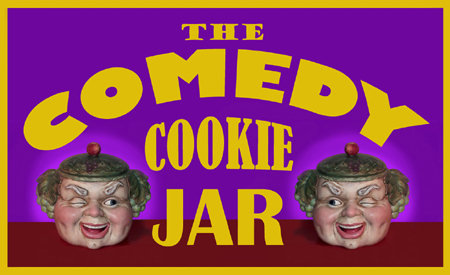 THE COMEDY COOKIE JAR!
Jazz-Age Laughs from Comic Masters of the 20s
With a Special Appearance by None Other Than
CHARLIE CHAPLIN Himself!
Onscreen:
Buster Keaton's Outrageous Theatrical Romp
"THE PLAY HOUSE"
With
Charley Chase in a Touching Romance:
"HIS WOODEN WEDDING"
Plus
Laurel and Hardy's Prehistoric Panic
"FLYING ELEPHANTS"
and
Harold Lloyd Goes Upper Crust in
"HIS ROYAL SLYNESS"
With
A Hilarious New Cartoon
"FELIX ALL PUZZLED"
............
The Return of
THE COMEDY COOKIE JAR!
Onscreen:
Harry Langdon's Uproarious
"FEET OF MUD"
Plus
Koko Out of the Inkwell in
"MODELING"
And
Snub Pollard's Tale of Invention,
"IT'S A GIFT"
With
Phil Dunham in Canine Capers:
"LUCKY DOG"
And a Special Treat!
The Brilliant "Thief of Bagdad" Spoof,
"GRIEF IN BAGDAD"
Not to be Missed!
............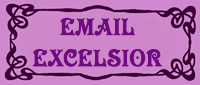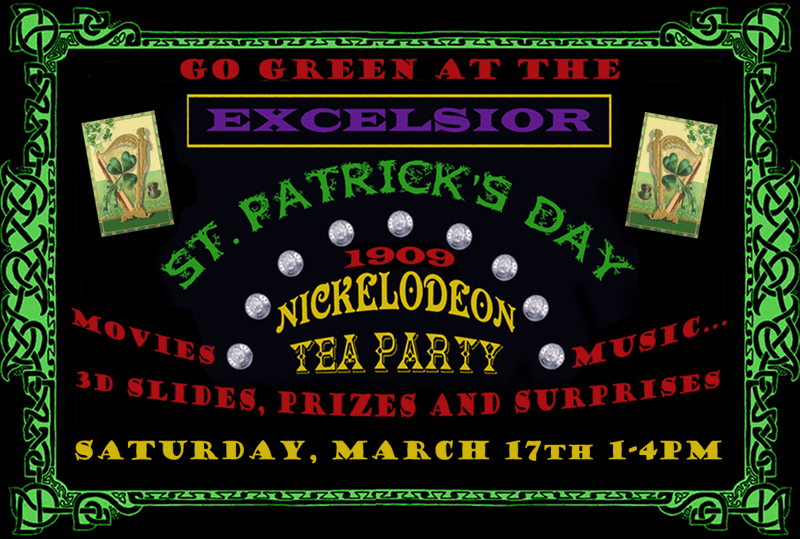 You're Invited to Spend a Pleasant Afternoon in 1909 at the Excelsior Electric Theatre.
Escape the 21st-Century Ratrace! Relax and Play in Excelsior's Non-Digital World,
where the wonder of cinema is still fresh, and movies are on real film
that's run on real mechanical projectors.


Here the 20th Century is new, and the future looks bright;
William Howard Taft has just taken over the reins of government from Teddy Roosevelt
and such things as World Wars, Television, the Internet,
and those little plastic water bottles are as yet unimagined.
THIS CHARMING ENTERTAINMENT
To be held Saturday, March 17th, 2012 from 1:00 PM until 4:00 P.M.
In the tasting room of the former Eagle Ridge winery in Penngrove
(next to Petaluma)
We are pleased to announce that the celebrated
PROFESSOR WIN 'FINGERS' MYERSON will accompany at the pianoforte,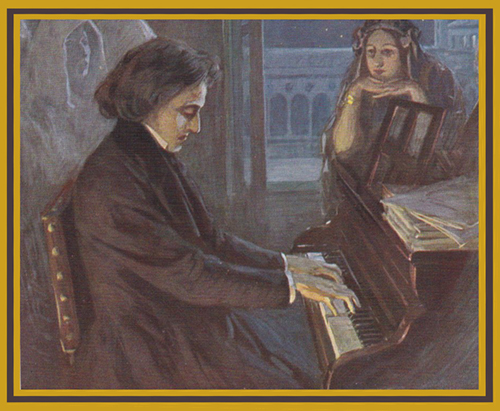 while the dulcet vocalizations of MISS ETTA PENNIMAN (Pam Riby)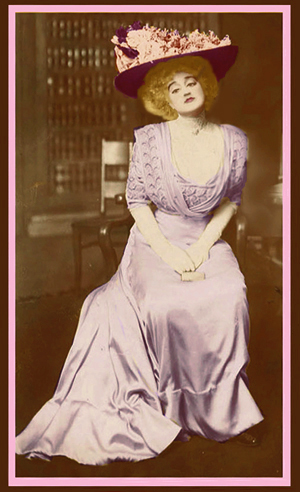 and MISS DAISY VICTOR (Annie Lore) will further delight the ear.
Excelsior offers an array of the finest new films, from actualities, dramas and comedies
through imported fantasies, such as the eery "RED SPECTRE"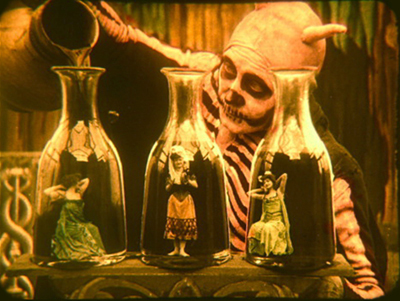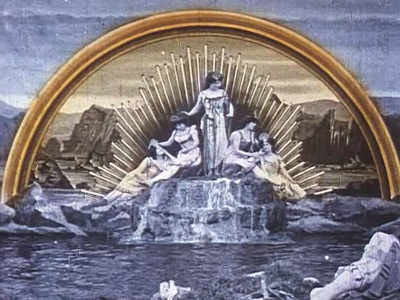 And the enchanting "DOWN IN THE DEEP".
Both will be featured in this show.
See the gripping Griffith Biograph drama "THE DRUNKARD'S REFORMATION"!
...and other edifying pieces.
ALSO FOR YOUR DELECTATION
Feel free to join in the chorus of the newest and catchiest
illustrated songs-- for this occasion, Irish of course.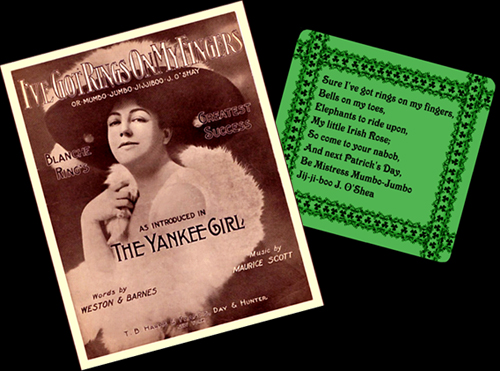 Then again, surely we shouldn't pass over a really great new song such as
"Let's Go In To a Picture Show" just because it doesn't mention Ireland specifically.
Ah, someone by the name of McCree wrote the lyrics. There you are-- Irish!
But new isn't everything; we won't be neglecting the old favorites from the Auld Sod.
PLUS!
A STARTLING AND MARVELOUS INNOVATION!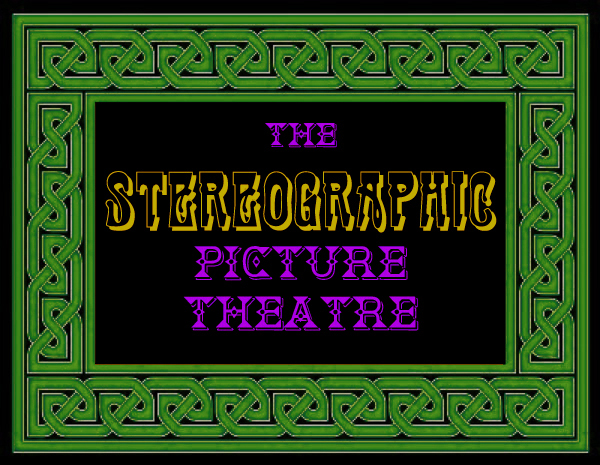 Through a wonderful new process you can see stereopticon views projected upon the screen
in life-like three dimensions. Beautiful scenes of the Emerald Isle will make your heart captive,
while droll comic picture stories will tickle you into smiles.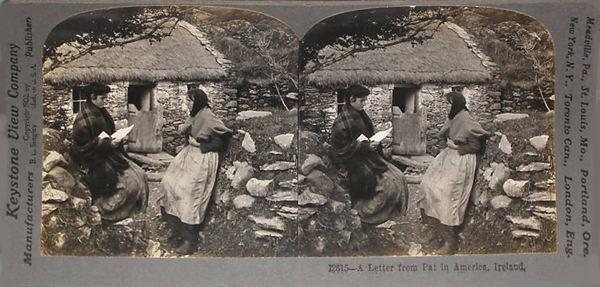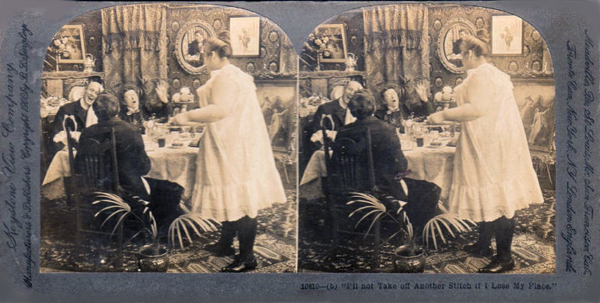 Doors open at 12:30.
You might browse through the Excelsior Library while waiting for the show to start.
Selected works by classical realist painter Virgil Elliott are also on display.
The show is in two acts, and commences at one o'clock.
Between the acts is the Tea Party intermission.
Mind you, our tea party has real china and silverware.
Saints be praised, no plastic!

At Excelsior, we don't think that an event with refreshments need be an occasion for producing volumes of waste.
As far as historical context goes, the early 20th century really marked the Dawn of the Disposable Age.
Paper plates were introduced in 1904; paper towels appeared in 1907, and paper cups in 1908, as hygenic
alternatives to shared public cups and towels. Paper napkins actually came along somewhat later, but we're
allowing them anyway since they're compostable.
THE EXCELSIOR ST. PATRICK'S DAY NICKELODEON
IS A PRIVATE PARTY AND SPACE IS LIMITED,
SO YOU MUST RSVP TO RESERVE YOUR SEATS.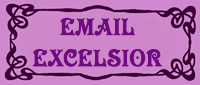 Since we do need to cover costs, we're happy to accept donations.
$10 for adults and $5 for children aged 5-12 is suggested, under 5 are a nickel.
A family of four can save by donating $20.
Anyone can donate less according to means or inclination,
BUT EVERYONE WHO ATTENDS MUST BRING A NICKEL!
(This needn't be a 1909 Liberty head nickel-- any will do)
If you can't afford more than that nickel, don't stay away-- but you must reserve your place.
We also wish to note any dietary restrictions among our guests, so all can be served at tea.
THIS IS A DRESS-UP EVENT.

Dress is 1900-1909, or to make it even easier, you can even do 1890-1915.
Because it's Saint Patrick's Day, the most Celtic day of the year,
leines and other Irish traditional dress would also be much admired.
It's the wearin' o' the green, after all! If you're already in the habit
of visiting the past in period clothing, this is a piece of cake.
For those unaccustomed to dressing for time travel,
DON'T WORRY!

It's really not hard to put an outfit together for 1900-1909 when it's not formal attire;
finding something to wear can be surprisingly simple.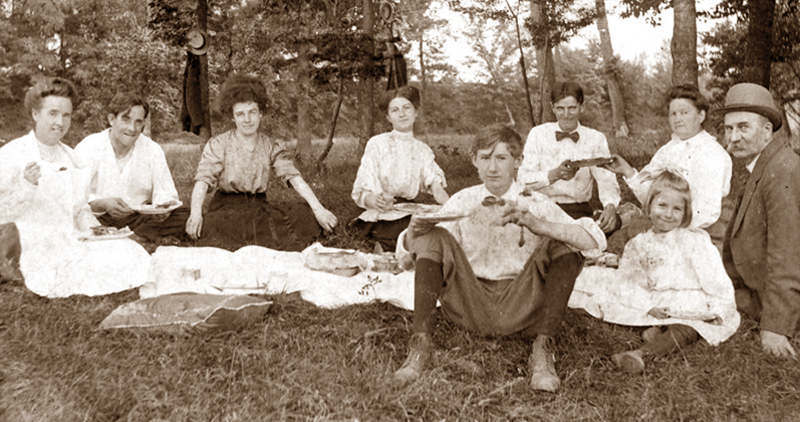 MEN
Basic men's clothing hasn't really changed all that much in the last century. This is a fairly casual event among friends,
so jackets and even vests can reasonably be omitted; no one will faint if you come in your shirtsleeves.
So gentlemen, if you have a pair of simply-cut slacks or khakis and a long-sleeved shirt that doesn't look
too modern you can easily get by, and a tie or bow tie is suitable but can be considered optional. Comfort counts!
Even sweaters have a place. And needless to say don't forget to wear some o' the green.


Of course Levi's existed then as work clothes; they weren't exactly proper for a 'nice' event, but you won't
find yourself a social outcast if you come in bluejeans. In 1909 everyone has a hat: either a straw skimmer
or boater, a cloth cap, or a derby/bowler or homburg; even a fedora wasn't unknown. A panama-type straw hat
can work too-- but if you're not outdoors, headgear isn't quite so important, since you'll be taking it off inside.
To fit in with the times, you'll just generally need to avoid glaring anachronisms such as short-sleeved shirts,
t-shirts, shorts, sports caps, high-tech running shoes and anything with a modern logo.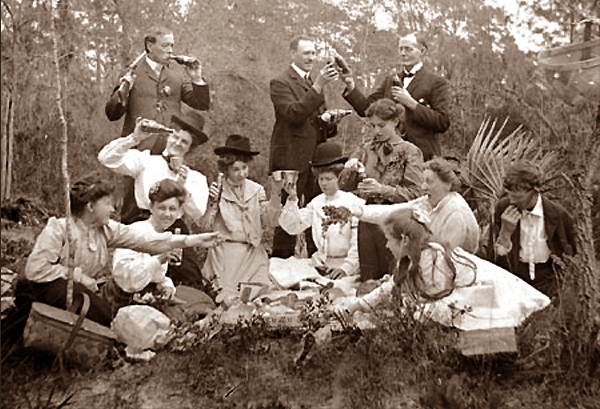 WOMEN
Most of us won't be modeling the latest modes from Paris...
...but just adding a fun hat to a simply-cut dress makes a very nice look indeed.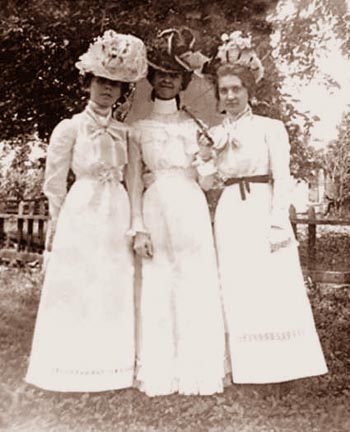 So in general, if you have a long, somewhat full-skirted dress that doesn't look too 21st-century,
especially if it's a bit frilly, that's probably close enough, and you might add a large sunhat.
Women are also wearing men's straw skimmers. A long A-line or flared skirt worn with a
reasonably old-fashioned long-sleeved or half-length-sleeved blouse can look about right,
and don't forget that Gunne Sax is a great resource. Any thrift store should have items you
can use. Accessories count; gloves, fans, parasols, drawstring handbags etc. will all add to
your old-time look and feel. Our period is also the great era of feather boas.


Enormous hats are quite a feature of the time, and figure prominently in many cartoons and jokes.
Women usually wear hats indoors at social events, but you can be daring and take your own course.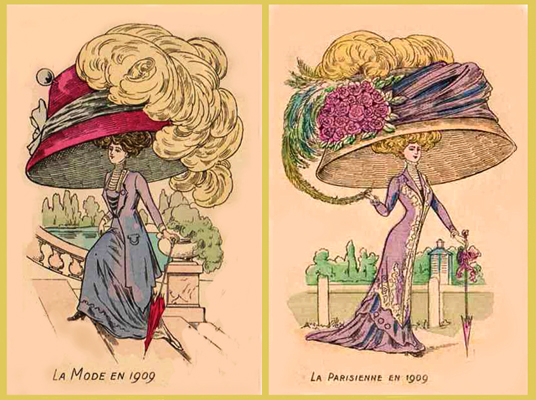 If you don't give a fig for such idle gibes and are feeling ambitious, a sunhat can be decorated
into a showy picture hat; but be prepared-- you may be asked to remove it at the show...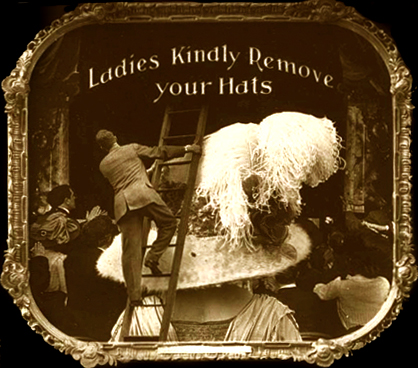 CHILDREN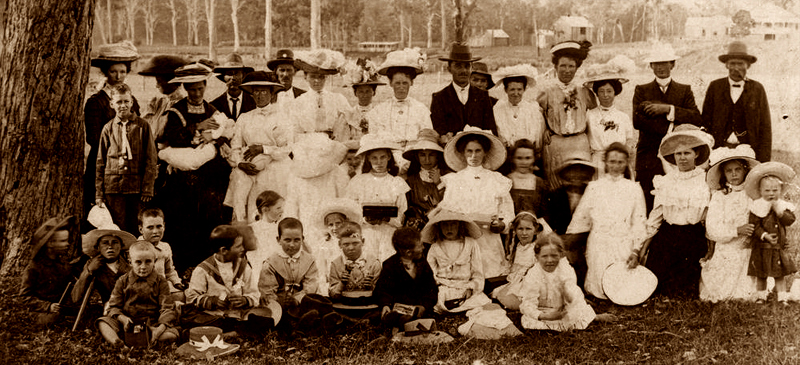 This is the era of short pants for boys, and sailor suits are immensely popular--
You can think of Buster Brown or (saints preserve us) even Little Lord Fauntleroy.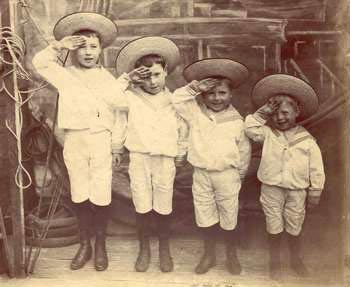 Little girls can of course be as frilly and flounced and beribboned as prize dolls...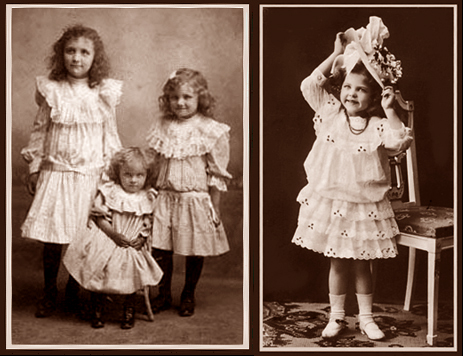 Whatever you wear, we hope you make it comfortable; we want to see you enjoying yourselves!
If you'd like further information on resources for period dress, feel free to write and enquire.

We hope to see you on St. Paddy's Day. Be sure (and begorrah) to wear some green, and
DON'T FORGET YOUR NICKEL!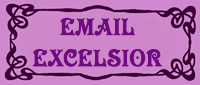 A show we've long been planning is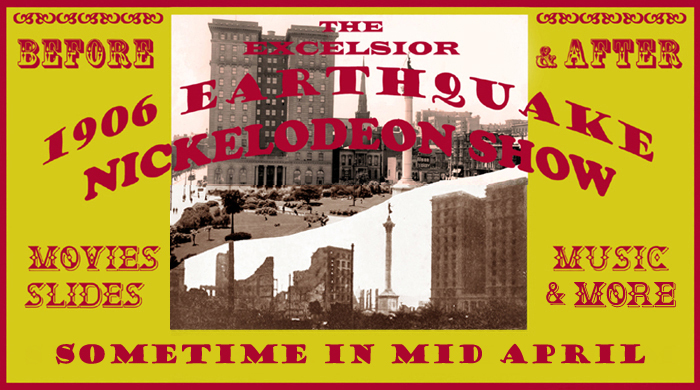 You're Invited to Spend an Unforgettable few hours in 1906 at
the Excelsior Electric Theatre,
Escape the 21st-Century Ratrace! Come and visit Excelsior's
Non-Digital World, where the wonder of cinema is still fresh,
and movies are on real film that's run on real mechanical projectors.


Here the 20th Century is new, and (despite natural disasters) the future looks bright;
Teddy Roosevelt is in the White House, Caruso is on the opera stage, and such man-made
complications as World Wars, Television, cell phones, the Internet, and those little
plastic water bottles are as yet unimagined. It's the era of ragtime, Gibson Girls,
Art Nouveau, Vaudeville, cakewalks and the Arrow Collar man.
Excelsior offers an array of the finest 'new' films, from actualities, dramas and comedies
to imported fantasies by Méliès, Pathé and others, plus magic lantern slides and live music.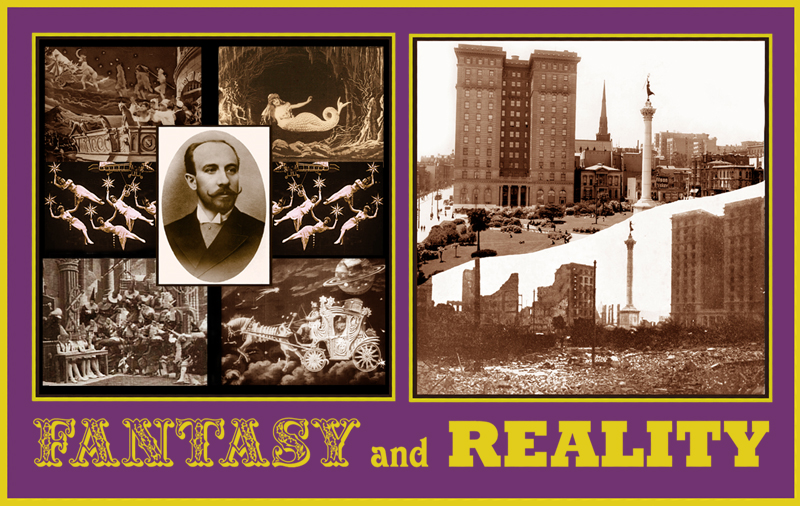 THE 1906 EARTHQUAKE NICKELODEON SHOW
is the perfect Quake Day observance.
You'll see the famous "Trip Down Market Street", recently determined
to have been filmed on April 14th, four days before the Quake struck.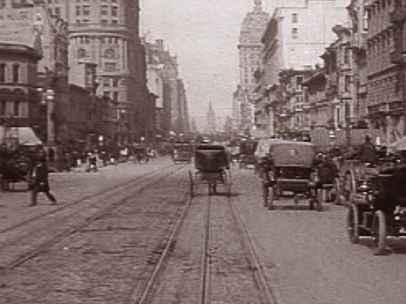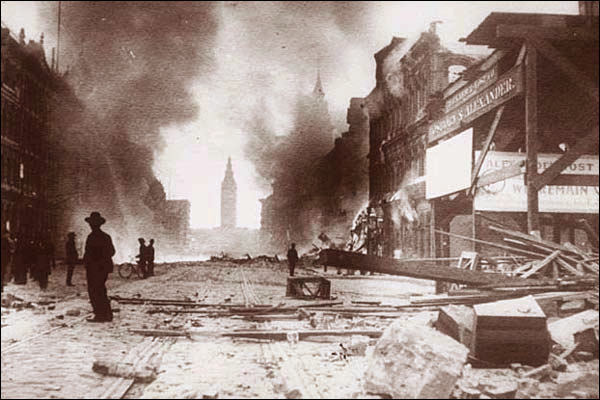 And then there's footage of the aftermath...

On a happier note, we'll also be screening "A Train Ride Down Mount Tamalpais",
filmed in 1906, plus delightful short comedies, and as a special treat:
FANTASY from LE GRAND MÉLIÈS.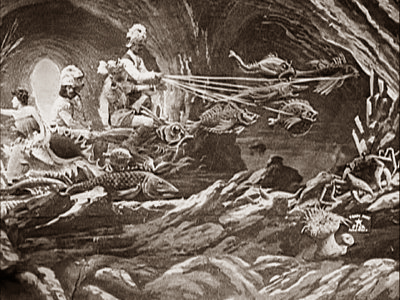 The programme will be enhanced by inspired accompaniment on the pianoforte.
ALSO FOR YOUR DELECTATION
Feel free to join in the chorus of a catchy new illustrated song.
PLUS!
A STARTLING AND MARVELOUS INNOVATION!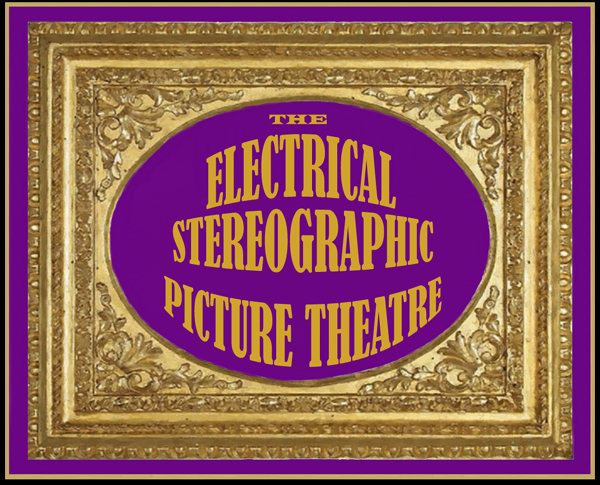 Through a wonderful new process you can see stereopticon views projected
upon the screen in life-like three dimensions. We will feature images of
San Francisco before and after the disaster. A few comical views may turn up as well!
(Some historical license is taken in utilizing polarized projection decades before
its actual introduction. The principle of the red-blue/red-green anaglyph was
understood as early as the 1850s, but does not provide as consistent an effect.)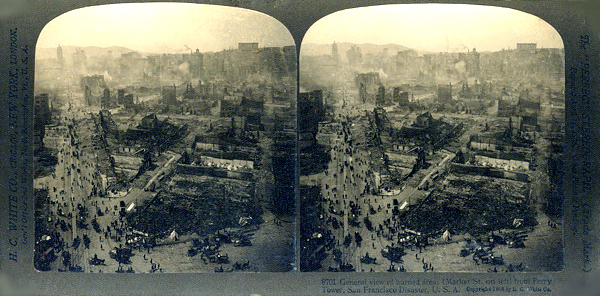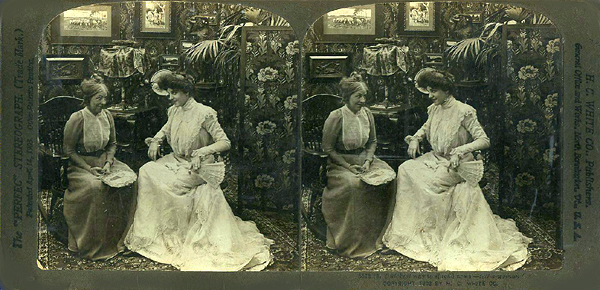 EVERYONE WHO ATTENDS SHOULD BRING A NICKEL!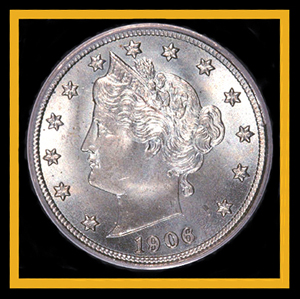 (This needn't be a 1906 Liberty head nickel-- any will do)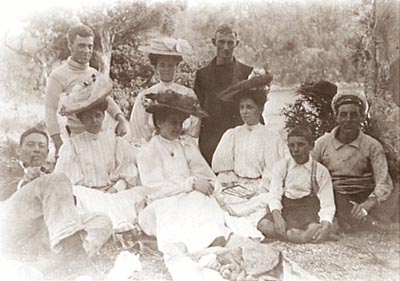 Again, if you like to dress old-timey, by all means put on your favorite rig
from 1890-1920--- or whenever. Just wear what you like and be comfortable!
AND REMEMBER:



Date Last Modified: 03/13/17
Web design by Annie Lore