UP-TO-DATE MOVIE ENTERTAINMENTS
FROM NO TIME LIKE THE PRESENT.
IT'S
THE 21ST CENTURY
Is No Place to Watch Early 20th-Century Movies.
SEE THEM IN THEIR OWN TIME!
THE EXCELSIOR MOVEABLE MOVIE PALACE
Brings You
A SPLENDID ARRAY
Of Small-Format Public-Domain Silent Features,
Short Subjects, Cartoons, Serials & Home Movies--
and Takes You to the Times
When They Were New.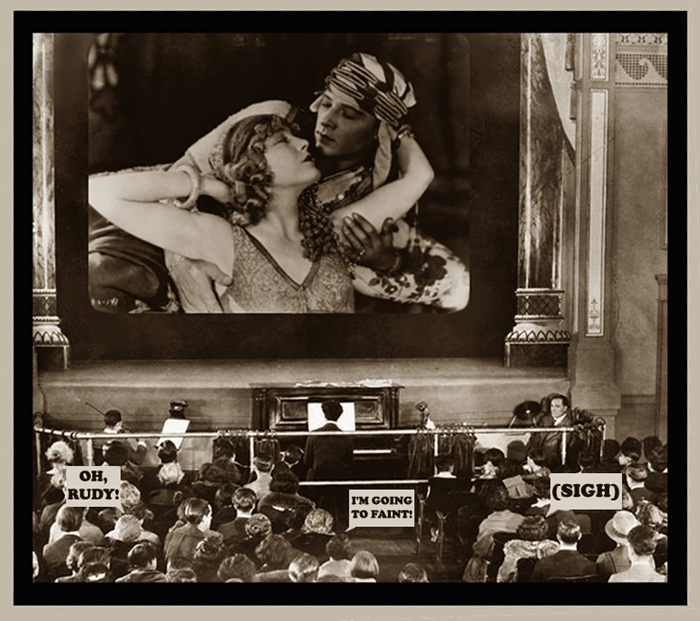 It's all about OLD MOVIES!
So if you like OLD MOVIES,
read on,
but before you go any further...
DO NOT THINK FOR AN INSTANT
THAT THIS IS ALL ABOUT NOTHING
BUT VIDEO/DIGITAL MEDIA!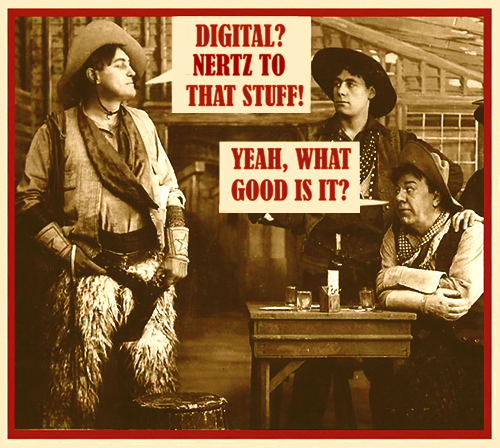 With very few exceptions,
Our movies are on real acetate film
that's run on real mechanical projectors
(quite a show in itself nowadays).
THERE'S A SPECIAL MAGIC TO IT!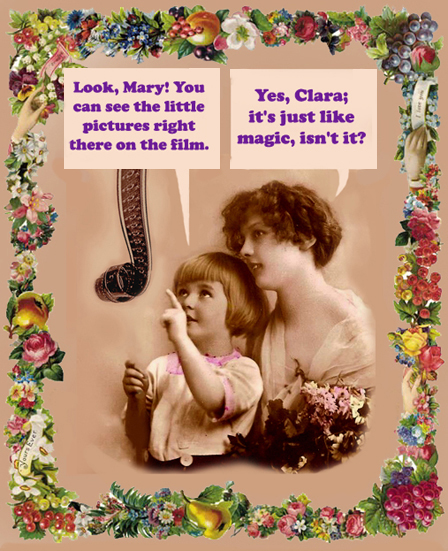 ~ ~ ~ ~ ~ ~ ~
Well may you ask: What about that

How exactly does Excelsior take you to another time?
Well, it's not just that a movie projector is a potential time machine...
Of course it's very much about the movies themselves. Think of it; each frame of film
preserves an instant of time from that long-vanished day it was shot. Habitual time travelers
will surely agree that it's partly the setting for the show~ the sights and sounds, the feel
of a certain time, and that it's partly how you're dressed. But for it to work, most of all it's about the
mindset, replacing your frame of reference with an Art Nouveau or Art Deco frame, so to speak.
When you see the world through the eyes of say, 1913 (great year for a lot of things),
you're watching a new 1913 movie, hearing new 1913 songs, inhabiting the 1913 world
as a familiar place, as your own time. And that goes for 1906, 1917, 1928 or any other year.
At our shows it's not D.W. Griffith WAS, or Mary Pickford WAS, or Rudolph Valentino
WAS, or Clara Bow WAS; Griffith IS, Pickford IS, Valentino IS, Clara Bow IS.
~ ~ ~ ~ ~ ~ ~ ~ ~ ~ ~ ~ ~ ~
(This doesn't work for everyone, we know. Luckily, it's just as exciting
to experience another time as a visitor from the future instead.)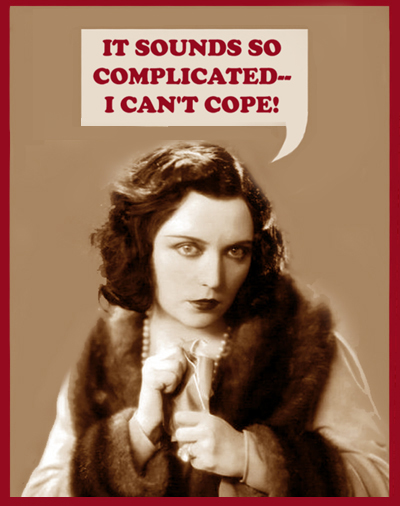 Not to worry; Excelsior can be as simple as a projector and a screen.
~ ~ ~ ~ ~ ~ ~
So Let Us Show You Some Nifty New Movies!
EXCELSIOR OFFERS FOUR MAIN TYPES OF MOVIE SHOW:
1. The Nickelodeon Era 1905-1915
~ ~ ~ ~ ~ ~ ~
2. Feature-Length Silent Films 1916-1929
Plus Comedy Shorts, Including The Comedy Cookie Jar
& Assorted Short Subjects
~ ~ ~ ~ ~ ~ ~
3. 16mm Sound Oddities, 1930 and Onward
~ ~ ~ ~ ~ ~ ~
4. Home Movies, 1920s-1980s
~ ~ ~ ~ ~ ~ ~
Live Accompaniment is Essential!
(though historically --and surprisingly--, many exhibitors
presented movies with no music at all, even as late as the 20s)
Here's our musical Who's Who:
~ ~ ~ ~ ~ ~ ~
Where Can You See Excelsior Shows?
Click to find out all about our upcoming dates.
~ ~ ~ ~ ~ ~ ~
CLICK BELOW FOR A GLIMPSE OF EXCELSIOR'S
PAST AND PROPOSED PROGRAMS

~ ~ ~ ~ ~ ~ ~
Things to Come...
Wonderful Enhancements, Innovations and Shows in the Works

~ ~ ~ ~ ~ ~ ~
Early 20th century Petaluma, California was chock-a-block with places
to go and see movies, and some of them are actually still in existence today.
Principal among these is the Mystic Theatre, a 1911 addition to the fine 1886
iron-facaded McNear building. The Mystic first opened its doors January 25,
1912 as a small-time vaudeville house, half live acts and half movies. At
first newspaper ads for the most part provided no more than a tantalizing
hint of programs: "4 CLASSY ACTS, 4 REELS OF MOVING PICTURES",
but that soon changed, and a daily parade of listed movie titles greeted the
eager eyes of cinemagoers, titles that for the most part are all that remain of
now-lost films. Oh, for a time machine that would take us to the 1912 Mystic!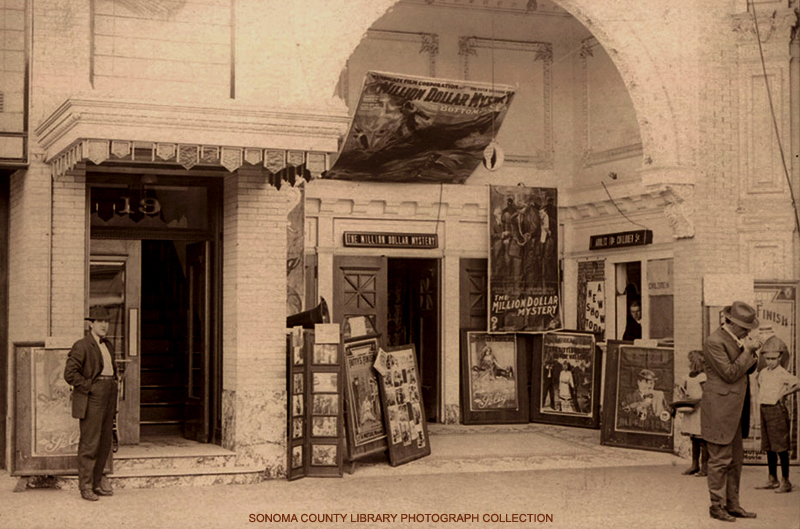 SONOMA COUNTY LIBRARY PHOTOGRAPH COLLECTION
This image of the Mystic dates from Tuesday, August 18th, 1914, and shows a movie theater
entrance typical of the early to mid 1910s; the offerings are all one- or two-reel subjects
represented on large lithographed color posters, most of which are on standing boards that
clutter the entryway. At left can be seen the horn of a phonograph, an inescapable component
of nickelodeon-era street advertising intended to attract customers with catchy music. The
sign next to the ticket window assures us of "A New Show Today". And what a show it was!

"The Million Dollar Mystery" is obviously the main attraction. This 23-part Thanhouser
serial with beautiful Florence La Badie was highly successful and a sure-fire draw. The
first weekly installment was released on June 22, 1914 and shown at the Mystic on Tuesday,
July 21st. Chapter 5, "At the Bottom of the Sea", is the August 18th entry. No copies
of any part seem to have survived. The 1927 feature of the same title is also a lost film.

"Fatty's Finish", a Keystone/Mutual short released on July 2nd, is also given prominent
poster coverage, as befits Roscoe 'Fatty' Arbuckle's great popularity. Presumed lost.

"The Little House in the Valley", released by American Films June 29th, 1914, involves
bucolic bliss disrupted by the arrival of a Surveyor and a Mexican Renegade. A lost film.

"The Leopard's Foundling", released by Selig on June 29th, 1914, was a jungle adventure
about a girl brought up by a leopard. 'Balu' the leopard girl was played by Kathlyn
Williams, who also co-wrote and co-directed this intriguing two-reeler. A lost film.

"She Wanted to Know" a 1914 Lubin Comedy with Julia Calhoun, was released July 18th,
1914 as a split reel with "All for Love", featuring Romaine Fielding. Both presumed lost.
~ ~ ~ ~ ~ ~ ~
It's a shame that so many are gone...
But all is not lost! Or rather, not all are lost. Thanks to the Petaluma Public Library
and the miracle of microfilm, we're cataloguing the early 1900s shows of Petaluma's
theaters and seeking out the surviving titles (we already have many!) with an eye to
re-creating Petaluma movie shows of the period. We're currently focusing on 1912, and
especially on the Mystic's programs-- though the Gem, the American, the Star, the Hill
Opera House (now the Phoenix) and others all merit attention and celebration. We look
forward to announcing show dates in appropriate venues! Check back for developments.
As it happens, of the many films that were shown in Petaluma back then, the few still
in existence are not all obtainable on real film, which severely limits the number of
titles we can offer. Thus, -alas!- in certain instances we may be compelled, however
reluctantly, to utilize that villainous modern digital technology in order to provide
a more complete selection of the movies that were actually onscreen in the 1910s. Rest
assured, however, that any such equipment being employed will not be allowed to sully
our moviegoers' period experience by any visible evidence of its presence at our shows.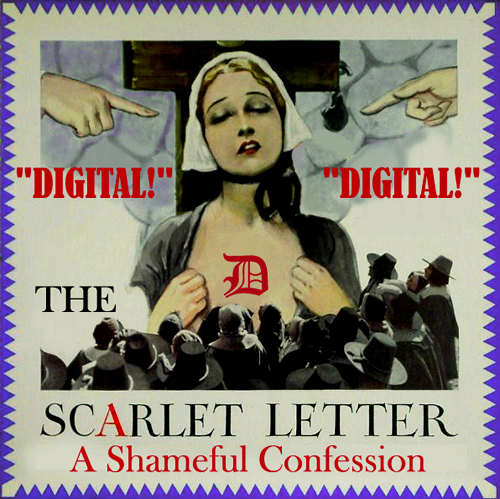 We Love Old Movies!
And We Especially Love Silents.
PRESENTING~

Our silent screen offerings celebrate two eras,
the evolving, inventive early Nickelodeon years,
and the advance of Feature Films and major movie houses. ~ ~ ~ ~ ~ ~ ~
WE CALL OUR NICKELODEON
THE EXCELSIOR ELECTRIC THEATRE
Features
Moving Pictures, Illustrated Songs
and Live Vaudeville, circa 1905-1915.
Just a sampling of nickelodeon movies... which customarily alternated with:
Glass plate Illustrated Song Slides of the time do not survive
in any great quantity-- so we create our own, though on 35mm slides.

Some nickelodeons also featured small-time Vaudeville acts.
~ ~ ~ ~ ~ ~ ~
~ ~ ~ ~ ~ ~ ~
AND THEN THERE'S
THE BIG PICTURE!
Here's Movie Palace Fare
from the Late Teens Through the Twenties,
Showcasing the Great Silent Stars and Directors.


Comedy Shorts, Cartoons, Serials and Newsreels,
Plus Live Entertainments of the Time
Make Fitting Appetizers for Our BIG PICTURES.
Some of our titles:
...to name but a few.
These are the films that premiered in the most opulent of movie palaces, an atmosphere
that Excelsior longs to emulate. "THINGS TO COME" enlarges upon this theme.
For more on comedy shorts, especially the COMEDY COOKIE JAR, visit 'Our Shows'

OUR SILENT FILMS MUST HAVE MUSIC!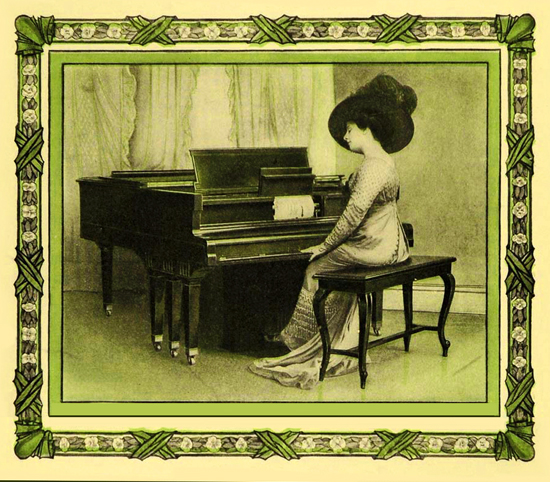 So we've engaged some of the most accomplished
musical talents to be found in the Greater Bay Area today.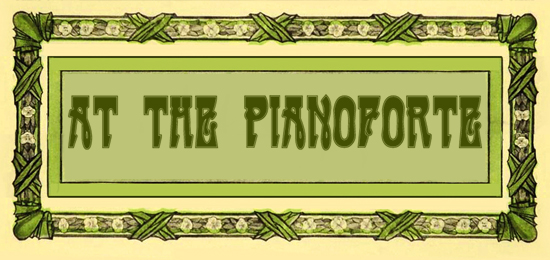 We beg to introduce
OUR ESTIMABLE MUSIC MAKERS:
~ ~ ~ ~ ~ ~ ~ ~ ~ ~ ~ ~ ~ ~ ~ ~ ~ ~ ~
Silent Screen Accompanist Par Excellence
provides virtuositous pianistic illuminations
for even the most lavish of cinematic epics.
~ ~ ~ ~ ~ ~ ~
That Reigning Queen of the Keyboard,
lends her mischievous mellifluous manipulations
to comedy shorts, songs and novelty acts.
~ ~ ~ ~ ~ ~ ~
In Addition, the Universally Celebrated
will animate the ivories with artistic aplomb.
~ ~ ~ ~ ~ ~ ~
~ ~ ~ ~ ~ ~ ~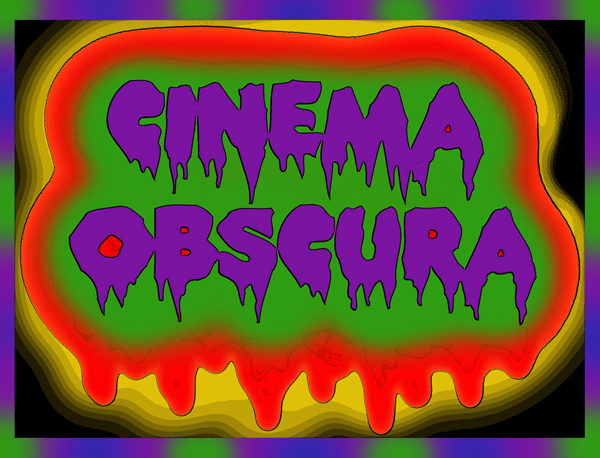 In the course of acquiring our silent film library, we've come across
some sound novelties, mostly in 16mm, and mostly unknown to moviegoers.
We just couldn't resist hanging on to some of them and sharing the fun,
even if they do have sound; we all know talkies are only a fad, anyway- right?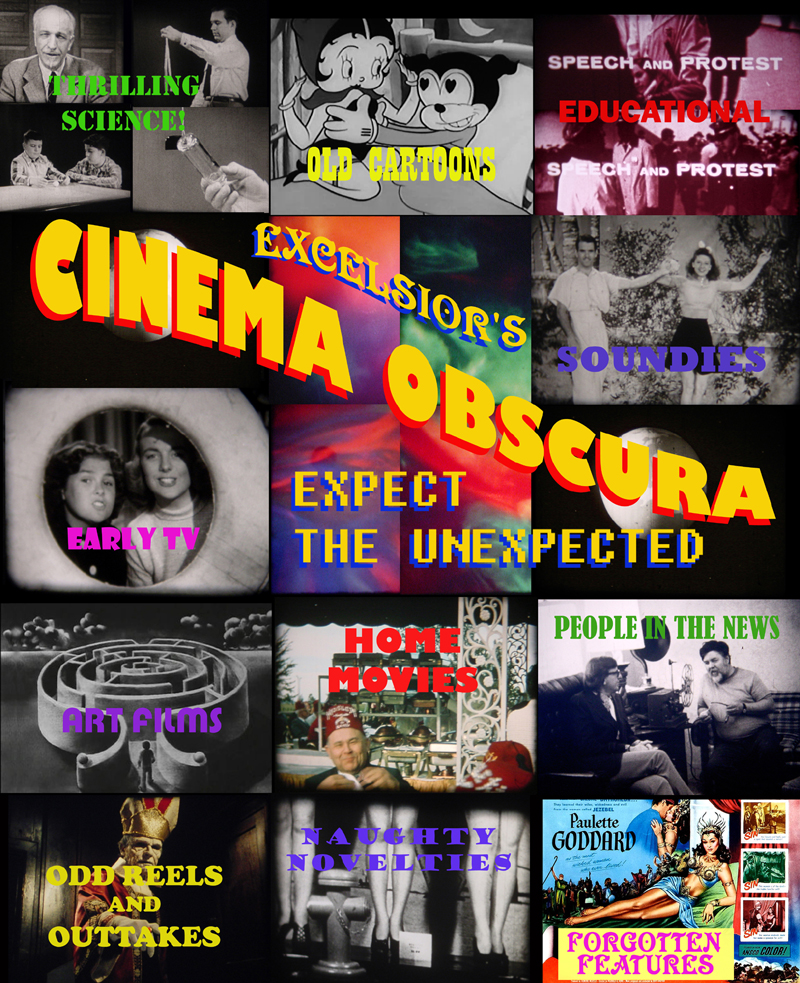 Lots of Camp, Schlock, and Weird Stuff of Every Description in 16mm,
mostly dating from the 1930s to the 80s. The Cinema Obscura 16mm Crazy Quilt
offers up a hodgepodge of short films, soundies, clips, fragments of early TV,
home movies, adult entertainment, cartoons, educational subjects and just plain
oddities, as always on real film run on mechanical projectors. There are also
Cinema Obscura Feature-length films. You're not likely to see these anywhere else...
~ ~ ~ ~ ~ ~ ~
~ ~ ~ ~ ~ ~ ~

LAST, BUT DECIDEDLY NOT LEAST, THERE'S

HOME MOVIE HEAVEN
Home movies-- 16mm, 8mm, and Super-8; what a time capsule!
These vintage films give us a privileged glimpse of people and places
as they were 30, 40, 50, 60, 70, even 80 or more years ago.
It's a fascinating ride through the past, especially if these
are people and places you've known or known of.

~ ~ ~ ~ ~ ~ ~
Do you have old home movies and no way to screen them?
~ ~ ~ ~ ~ ~ ~
Do you have friends with old home movies?
Invite them to share by having an Open Screen Party so all can see.
~ ~ ~ ~ ~ ~ ~
An Open Screen night or matinee is also ideal for schools and libraries.
~ ~ ~ ~ ~ ~ ~
Are you planning to transfer your films to video and want a look first?
~ ~ ~ ~ ~ ~ ~
Have you come upon a box of unknown reels of film and want a showing?
~ ~ ~ ~ ~ ~ ~
Do you have small-format sound or silent films of any sort
you'd like to have screened? We can help.

~ ~ ~ ~ ~ ~ ~

~ ~ ~ ~ ~ ~ ~
Whether you're planning a large gathering for your movie event
or just need a personal showing, Excelsior's Home Movie Heaven is
ready and eager to put your treasures up on the silver screen.

And if you love old home movies but have none of your own,
Home Movie Heaven can provide a program from our unique collection.

We have all the projectors needed (and then some), and in many cases
we even have them from the very decade when your movies were shot.
If you like to time-travel, you can even make your screening a complete
retro event, with clothing and deco from the 1920s up to the 80s
(when home video was taking over from film). Using a significant
someone's birth or wedding year can yield an especially appealing theme.
~ ~ ~ ~ ~ ~ ~
THE COMEDY COOKIE JAR
IS COMING TO PETALUMA IN APRIL!
TWO DATES: SATURDAY, APRIL 1st & SATURDAY, APRIL 15th
The Petaluma Library will be hosting two Saturday afternoon movie shows featuring
Jazz-Age laughs from comic masters of the 20s, the first on April Fools' Day, a most
appropriate date for all-out silliness and nonsense, with prizes and surprises in store.
April 15th is the second date; that's Tax Day-- and Easter Eve. Nice mix of themes...

As usual, our movies are on real film that's run on mechanical projectors, with live
piano accompaniment. The dexterous Professor Win 'Fingers' Meyerson will do the honors
at the keyboard, while 'Celluloid Rose' (Annie Lore) will reign as hostess, projectionist
and general mischief-maker. Remember, it's the Twenties! Dress for that decade and you might
go home with a special prize. Or come wearing a foolish hat and who knows what might happen?
SO WHAT'S ON THE MENU FOR APRIL 1st?
We don't want to give away the whole program and spoil too many of the surprises in
store, but let's just tease your palate with a few tasty titles as insidious appetizers:
"COURT PLASTER" (1924) is a seriously loony Christie opus with Neal Burns
and Jack Duffy. Not on YouTube, and no IMDb synopsis or reviews. Be the first!
OUR BIG TWO-REELER!
It's a prehistoric panic when Laurel & Hardy go in for caveman courtship
in 1928's "FLYING ELEPHANTS", a neolithic novelty if ever there was one.
And speaking of novelties, you won't want to miss "GRIEF IN BAGDAD"
from 1925, a lavish sendup of the celebrated Fairbanks "Thief of Bagdad",
with a few noticeable differences in casting. Who wouldn't go ape?
~ ~ ~ ~ ~ ~ ~

Now for Some Particulars:
The shows run from 2:00 PM to 3:30 PM
and ADMISSION IS FREE (no fooling)
Venue: The Helen Putnam Room, Petaluma Regional Library
100 Fairgrounds Drive, Petaluma, CA 94952
Phone (707) 763-9801 Website
AND REMEMBER:
We hope to be presenting an ongoing series of library shows...
And where else can you see Excelsior shows? The answer is---
Wherever you like. Excelsior comes to you, with your own film festival for
a few friends-- or a few hundred, at your home or school, or library or church or
museum or community center or rented hall or club, or you name it. This doesn't mean
that there are no public showings; we can be booked at events or performance venues
like any act. We're based less than a hour north of San Francisco and can bring our
shows to the far-flung corners of the Greater Bay Area and even beyond. Just enquire.

~ ~ ~ ~ ~ ~ ~
We have popular classic titles as well as rare and obscure
works such as the 1925 Barbara La Marr feature,
"HEART OF A SIREN",
which survives only in a 16mm reduction,
badly in need of restoration.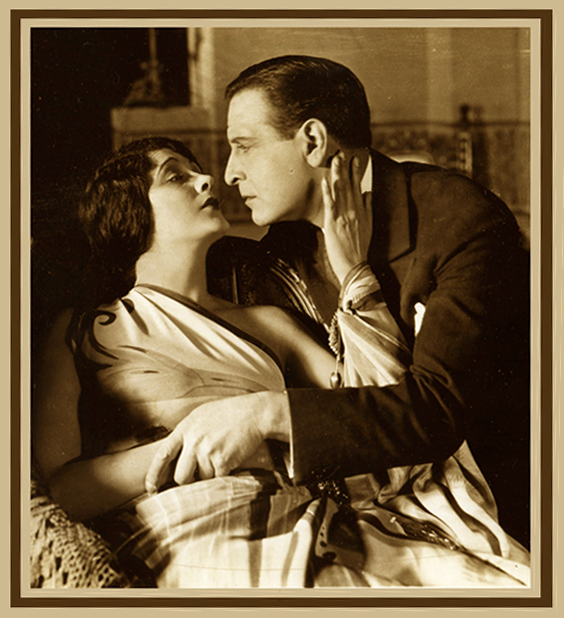 CLICK BELOW FOR MORE ON THIS AND OTHER RARITIES
WE'LL BE SCREENING IN THE FUTURE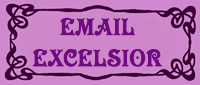 ~ ~ ~ ~ ~ ~ ~

The Excelsior Company's mission is to present old-time films in the context of their times.
It's history, it's entertainment & art, and it's entertainment & art history.
From the short early dramas, comedies and fantasies of Edison, Biograph,
Pathé, Méliès and Lumière through the lavish perfection of 1920s feature spectacles
and on to the new horizons of sound cinema, every moving picture
has the potential to mentally and emotionally transport
the viewer to that other time when each film was new.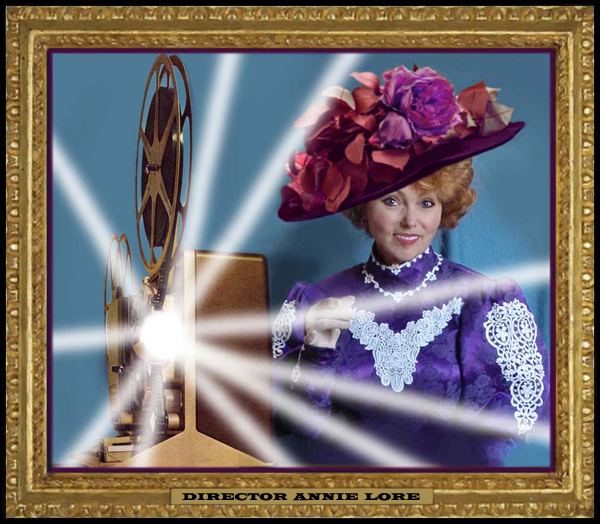 The Excelsior cinema library contains hundreds of small-gauge films (mostly silent), comprising dramas, comedies,
serials, cartoons, news footage and home movies. We can't afford the latest restored versions of anything, but do the best we can;
some of our titles no longer exist in any larger format than 8mm. Our silents are usually accompanied by a live pianist,
and the piano can also be a nice feature for talkie shows that include appropriate live entertainment.

The Electric Theatre nickelodeon programs of 1905-1915 include Illustrated Song Slides with audience sing-along,
and even modest vaudeville turns, as was the fashion in these early multimedia shows.
The Big Picture silent programs can feature a vaudeville or musical prologue suited to the films that follow,
a practice continued well into the sound era by the major houses.

Excelsior shows are ideal entertainments for private and corporate parties, schools, libraries, hospitals and senior communities,
whether the intent is to provide pure old-time fun, or to instruct in a fashion as agreeable as it is memorable.

The Excelsior Company is a loose confederation of professional and part-time entertainers
and film history enthusiasts around the greater San Francisco Bay Area who share a love of
past movie eras, with their special flavor, charm and significance.

COME PLAY IN THE PAST!
~ ~ ~ ~ ~ ~ ~



Date Last Modified: 03/13/17
Web design by Annie Lore


EXCELSIOR!