Future Presentation Enhancements and Screenings--
Projects in the works, but presently stalled:
Firstly, the needed completion of two sets of readily transportable theater dressing,
which can transform a variety of spaces into sumptuous Excelsior Theatres.
Past acquisition of a considerable quantity of tapestry-like fabric in rich colors
has made possible a wide range of scenic installations; the greatest obstacle
to progress is the lack of adequate workspace. Paint and labor count too, though!
THINGS TO COME
~ ~ ~ ~ ~ ~ ~
OUR COMING ATTRACTIONS!
Movies We Can't Show Yet
~ ~ ~ ~ ~ ~ ~
~ ~ ~ ~ ~ ~ ~
An Egyptian motif can hardly be bettered for sheer timelessness and elegance.
Above you see the effect of the completed Egyptian-dressed stage picture,
the screen presided over by two ten-foot Anubis figures. In the best tradition
of exotic-themed movie palaces, the Excelsior Egyptian Theatre will make a
memorable setting for movies of any kind, as well as for live performance.

There are other painted panels to accompany this; these are languishing in storage, and
more work is needed on them as well before the full Egyptian Theatre can at last be unveiled.

Currently the stage frame has only progressed as far as the two figures being
blocked in, as shown below. Anubis needs funding for completion!
~ ~ ~ ~ ~ ~ ~
The Excelsior Cypress Glade Theatre has been in the planning for some time now.
It's simply a repeating series of panels, but the end effect will be quite enchanting.
Various trees were considered; the cypress, however, had a certain special charm to it.
By hanging this series of 10-foot by 4-foot painted cloth panels along the walls of the
theater space, a pleasant, dreamy environment is created, one that comfortably
harmonizes with both Art Nouveau and Art Deco esthetics.

A sprinkling of stars may be added, perhaps with little lights that can be dimmed
at showtime. For a more naturalistic effect, there need not be identical trees on each panel.
Depending upon the space available at each venue, cypress panels can also flank our traditional
proscenium valance and curtain; eventually a cypress stage frame might be added. At present
the fabric awaits on its bolts; we're looking forward to cutting and painting those panels!
OUR COMING ATTRACTIONS!
These are films we can't screen until new prints are struck,
either because we only have the negatives or because the prints are
in need of restoration before they'll be ready for projection.
"THE HEART OF A SIREN!"
Based upon the play "Hail and Farewell", a stage success for Florence Reed,
it's not a great film, but one of Barbara La Marr's few extant starring vehicles.
It's not very watchable in its present state, unfortunately, so we're hoping
to accomplish some restoration with the aid of (horrors!) digital technology.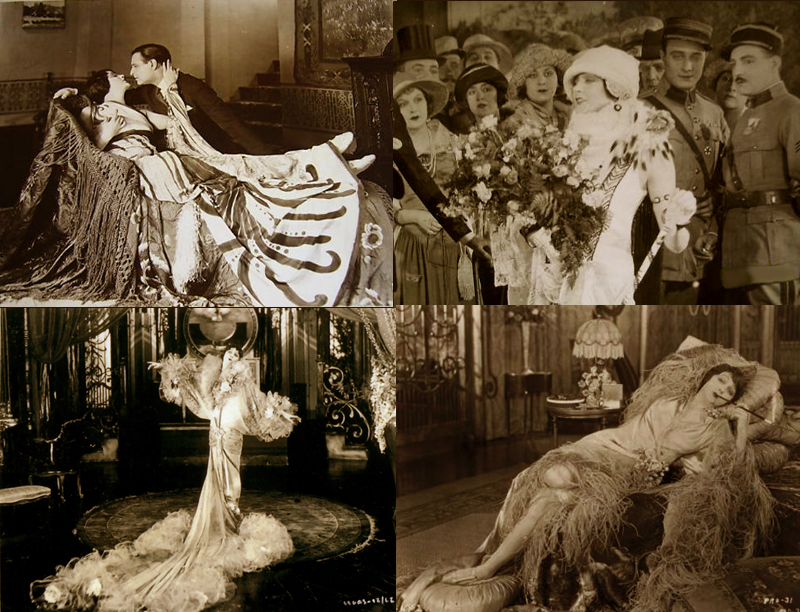 In the cast are Conway Tearle as the Siren's leading man, and Clifton Webb
in the role of her suave personal secretary. Charles LeMaire designed her very
lavish, sometimes outré wardrobe. She certainly rivaled Swanson as a clotheshorse.
For more about 'the Girl Who is Too Beautiful', visit BarbaraLaMarr.net
~ ~ ~ ~ ~ ~ ~
SOME OTHER TITLES AWAITING THE EXCELSIOR SCREEN:



"EASY VIRTUE" (1928) Isabel Jeans, Directed by Alfred Hitchcock (negative)


~ ~ ~ ~ ~ ~ ~


"GRAND TOUR" (Circa 1905) Travelogue with footage of Italy, France, Egypt and India. (negative)
~ ~ ~ ~ ~ ~ ~
OUR NEW MYSTERY SERIAL!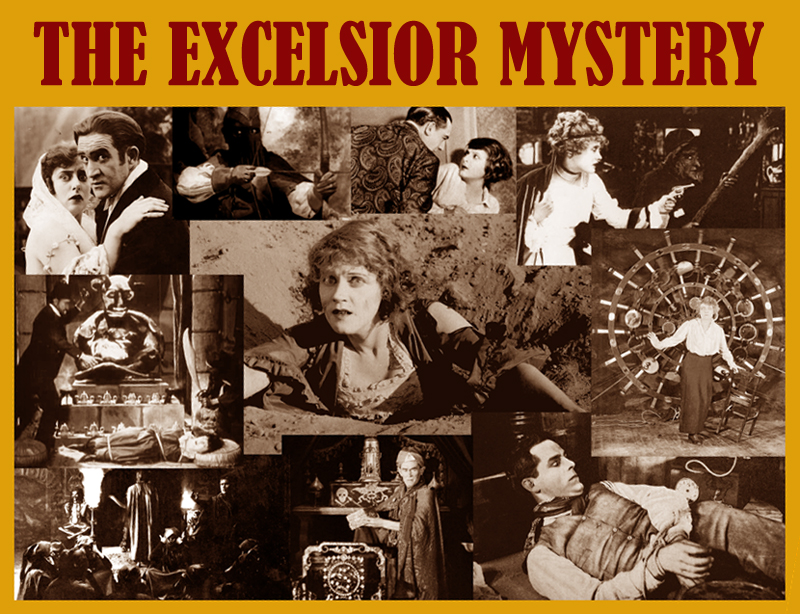 In the manner of the great mystery/adventure serials of the mid to late teens, such as
The Mystery of the Double Cross, A Woman in Grey, The Million Dollar Mystery
and Zudora, Excelsior plans to film an entirely new and original mystery serial.
Unless we encounter a windfall of 16mm stock, this is to be shot on black and white (Tri-X)
Super-8mm film, a supply of which reposes in our film freezer awaiting the call to roll 'em.

We plan to solicit the use of many exciting Bay Area locations (when was your
house built?) as well as ideas for the course the story will take through
its convolutions, and to reward our contributors by featuring them as guest
performers in the film. Because it's to be shown in 15 or 20 minute chapters,
a piecemeal style of production can be employed. This should be relatively
easy to schedule and execute-- and it should be a whale of a lot of fun!



Date Last Modified: 03/28/19
Web design by Annie Lore


Stay tuned!